Look Inside...
Sample Chapter from upcoming Vaudio Book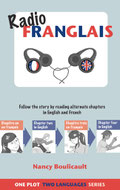 Une intrigue palpitante et moderne qui, en suivant les aventures de l'équipe de Radio Franglais, vous entraîne du français à l'anglais et inversement, offrant une vraie
expérience bilingue. 
A page-turning plot sweeps you from French to English and back again as the adventures of the Radio Franglais team brings the reader with good French skills an authentique bilingual experience.